'Retirement Made Simple' Highlights
Equity Release Options
Noel Whittaker is 81 years of age, yet there is no slowing down for this prodigious journalist and author, who this year released his 22nd book, Retirement Made Simple.
Whittaker, a financial planner and accountant with over 30 years of experience, is one of Australia's most trusted voices on the subject of money management and retirement funding.
Household Capital CEO, Josh Funder, said it was a privilege to contribute content to Retirement Made Simple.
"On the subject of financial planning, there are very few Australians, if any, who have contributed as much as Noel Whittaker to this field. So to be in a position to be quoted in his latest book is a great honour," said Funder.
Funder contributed a range of comments to the book, including how reverse mortgages have changed for the better in recent years.
In the past reverse mortgages were poorly regulated, and with high-interest rates and exit penalties among other issues, they had a bad name. Now, homeowners that take out a reverse mortgage have a range of consumer protections and providers have stringent responsible lending obligations. This includes homeowners living in their house as long as they choose.
Reverse mortgages also come with a No-Negative Equity Guarantee, whereby the lender will cover the shortfall if your loan balance is greater than the value of your home when it sells.
"Home equity is our customer's own money, their own wealth, and they use it wisely. On average, our customers only use half of the equity available to them, typically for two or three different long term purposes. That both meets their needs and leaves more equity for their future and their kids," said Funder.
Whittaker said in his book that one of the most important changes to reverse mortgages in Australia has been new providers, such as Household Capital, which are playing a key role in individual wealth management and retirement planning.
Funder also wrote the first paragraph of the Equity Release chapter:
"As a group, Australian retirees have already saved over a trillion dollars that they don't have ready access to: this is the value of the equity in their homes. Indeed, for most households now in retirement, the value of their home equity is more than three times the value of their superannuation savings."
Downsizing to a small house or flat can be costly and emotionally taxing, as this is where you are comfortable and where so many precious memories reside. Obtaining a Household Loan can allow retirees to stay in their home.
Household Capital's Household Loan enables retirees to release equity to meet living costs such as house renovations, medical expenses or in-home care.
Funder said Household Capital's retirement specialists are available to further explain how a Household Loans works.
"Home equity is the largest store of lifetime savings for most Australians. If that's true for you, don't ignore it - understand your home equity and actively manage your access to it."
Funder also contributed a range of cartoons that appeared in the book.
Home equity release could help you boost your retirement nest egg. Try our Household Capital's online calculator.
* The Comparison Rate is 4.98% and is based on a loan of $150,000 for 25 years. WARNING: this comparison rate is true only for the example given and may not include all fees and charges. Different terms, fees or other loan amounts might result in a different comparison rate.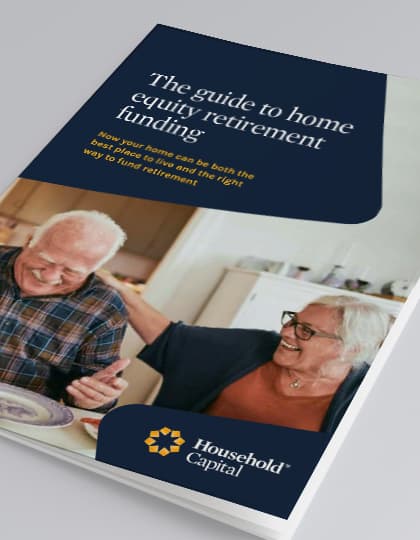 Applications for credit are subject to eligibility and lending criteria. Fees and charges are payable and terms and conditions apply (available on request). Household Capital Pty Limited is a credit representative (512757) of Mortgage Direct Pty Limited ACN 075 721 434. Australian Credit Licence 391876.