Three ways to release the equity in your home
Australia's retirees are being challenged like never before:
Nearly 20 percent of those aged 60-64, and 12 percent of those aged 65-69, are paying a mortgage
Historically low interest rates are impacting retirement income, exacerbated by government inaction on deeming rates
More than 130,000 people are waiting for government-funded in-home care, with no guarantee of getting the level of care required
Refundable Accommodation Deposits (RADs) generally range from $450,000 to $1 million in metropolitan areas.
We are living longer than ever, and people look forward to a long, active retirement. At the same time, many people don't have the savings to fund 20 or 30 years of retirement. There's the challenge – a healthcare system and standard of living that's resulted in longer, healthier lives and a growing number of people who can't adequately fund their retirement.
What are the options?
Most Australians want to age at home. However, longer lives combined with insufficient retirement savings, exacerbated by low interest rates, present a challenge.
Downsizing
Downsizing often results in disruption and dislocation – and doesn't always deliver financial advantage. Although the government has financial incentives to encourage downsizing, it's not a popular option – according to the latest YourLifeChoices Insights Survey (March 2019), only 16 percent of readers intend to downsize.
Centrelink Pension Loans Scheme
From today, the Centrelink administered Pensions Loans Scheme (PLS) is available to all Australians of Age Pension age currently receiving an eligible pension – this has been extended to those receiving a full pension. Through this scheme, the government draws on the recipient's home equity to provide a regular income stream alongside the pension. It does not provide capital for contingencies or other purposes, including renovations or funding aged care needs.
Retirees have more than $1 trillion saved in their home equity. With most preferring to stay in their own home as they age, the untapped savings in the family home can be a valuable resource. It can improve regular income and fund age-appropriate in-home care. A lump sum could be used for home renovations or to fund the transition to aged care. Responsible access to home equity can help you live a comfortable lifestyle and meet your long-term retirement needs … it can help you Live Well At Home.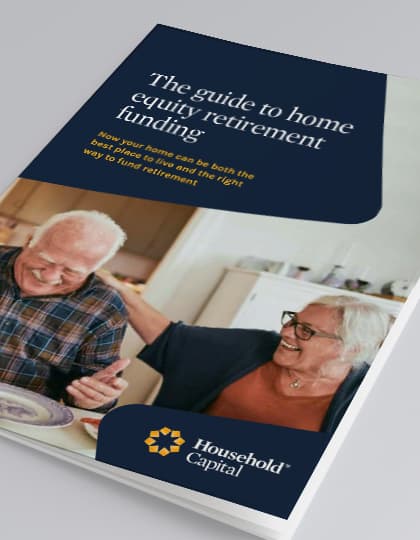 Applications for credit are subject to eligibility and lending criteria. Fees and charges are payable and terms and conditions apply (available on request). Household Capital Pty Limited is a credit representative (512757) of Mortgage Direct Pty Limited ACN 075 721 434. Australian Credit Licence 391876.