The retirement income squeeze
For most of us, 2020 has not been what we expected.
For most of us, 2020 has not been what we expected. Many resolutions made at the commencement of this new decade fallen by the wayside. At a time when you expected to be living your retirement dream, you're instead concerned about your health – and in many cases, your retirement finances.
We're hearing the same thing from retirees Australia wide – retirement income is being squeezed. While the health crisis was both sudden and unforeseen, so too is the resulting financial crisis. Term deposits have been further reduced by the banks, dividends have and will continue to be slashed and rental income streams have dried up. Super balances aren't looking as healthy as they did at the start of 2020.
It's a topic YourLifeChoices has been writing on regularly and no doubt, it's a topic you have followed with interest. It's been particularly challenging for self-funded retirees, many of whom feel neglected by the government during this challenging period.
Home equity: the third pillar of retirement funding
As defined by the government in its Retirement Income Review, home equity is an integral part of the third pillar of retirement funding. Drawing on home equity when other sources of income are reduced is a sensible option when you consider most Australian retirees have much more saved in their homes than in their super or investments.
In total, Australian retirees have $1 trillion tied up in home equity. Freeing up some of those funds from your largest retirement asset enables you to continue to live well in your own home and, just as importantly, in your community.
Accelerated access to home equity
It's Household Capital's mission to help retired Australians Live Well At HomeTM. Household Capital has introduced two new products to provide accelerated access to the wealth accumulated in your home – your Household CapitalTM – as either a Home Income regular income stream or $20k Top Up lump sum contingency payment.
Home Income
Household Capital's Home Income solution can help you to replace lost income over the short to medium term, to ensure you have choice and flexibility when it comes to meeting your retirement needs.
If those needs are modest and require you to borrow an amount equal to less than one per cent of your home equity per year (simply take three zeros off your home value to calculate a modest monthly draw down), you may qualify for accelerated access to your Household CapitalTM. In this circumstance, you can apply online and your retirement income stream will be available within two weeks.
$20k Top Up
A $20,000 contingency fund is available to help you cover your bills or meet other needs at this time. You might use it to pay your rates or body corporate fees, for general living expenses or to help kids or grandkids who have lost jobs in the pandemic. You might choose to put it aside for those unexpected expenses. Household Capital's $20k Top Up has been designed to provide accelerated access to your Household CapitalTM; if eligible, your $20,000 payment will be available within two weeks.
As with the Household Loan, regular interest repayments are not required. However, you have the flexibility to pay back your loan at any time without financial penalty. At the same time, all the usual consumer protections apply:
You retain 100 per cent ownership of your home
You cannot default or be removed from your home
The 'no negative equity guarantee' applies.
Australian retirees feel safe in their home. Household Capital wants you to feel safe in your retirement too.
If you'd like to see whether you qualify for accelerated access to a $20k Top Up, check out Household Capital's online calculator. Home Income and other calculators are available here. Alternatively, you can call Household Capital on 1300 622 100.
Retirement income inadequacy
As detailed in figure four, 75% of older Australians face income inadequacy or uncertainty, undermining both confidence and wellbeing throughout retirement. The combination of inadequate and uncertain retirement funding leads to a gap in retirement incomes.
Expectations of retirement income adequacy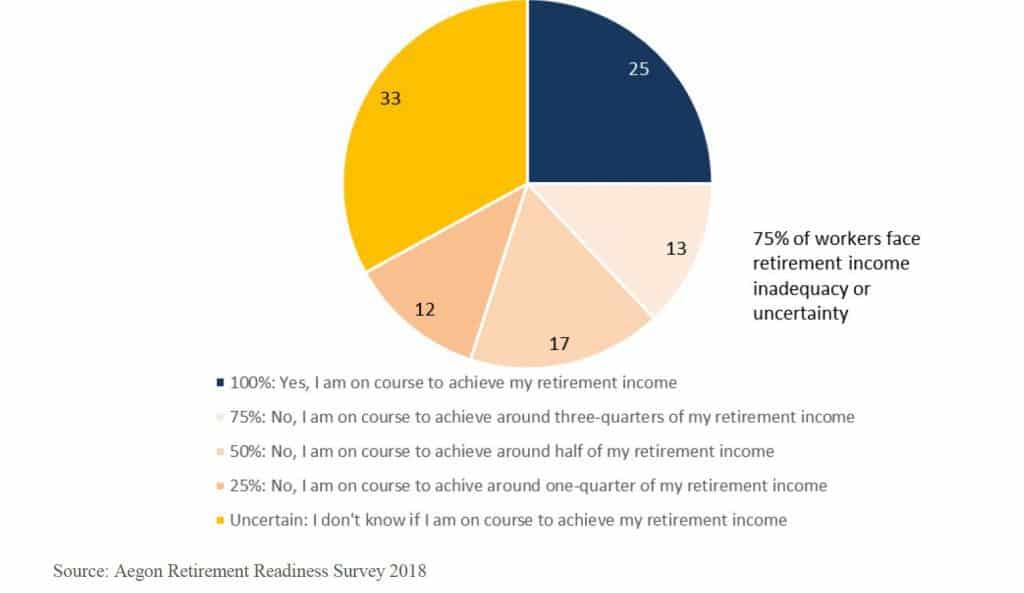 The outcome of uncertain and inadequate retirement funding is profound. Individual retirees face harder lives, diminished dignity and independence, reduced confidence, less active retirement, worse health outcomes and intentional under-consumption for their own wellbeing. Poorly funded retirement also has major implications for national social and economic objectives.
Looking forward
A key recent change in national policy on ageing has been the switch from viewing longevity as a "grey tsunami" and "budget threat" to celebrating an historically unprecedented new phase of life as part of "longevity and positive ageing". To take advantage of 30 years of retirement, we must address social and economic policy.

First, in social policy, healthcare and community connectedness are essential to retirement outcomes. Retirees with greater incomes and more confidence in their ability to fund retirement will be more active, healthier, and happier. Second, in economic policy, appropriate housing (including aged care) and funding for retirement are essential.
Australian retirees intend to live long, healthy lives at home. Household Capital's mission is to provide widely available solutions for retirement housing and funding by providing a universal finance function between housing and retirement. Australian retirees have saved more than one trillion dollars in home equity and should be able to draw on those savings to Live Well At Home.
Applications for credit are subject to eligibility and lending criteria. Fees and charges are payable and terms and conditions apply (available on request). Household Capital Pty Limited is a credit representative (512757) of Mortgage Direct Pty Limited ACN 075 721 434. Australian Credit Licence 391876.