Strategies To Transform Your Retirement Guide
Every Australian deserves a comfortable retirement. You've worked hard and probably have a list of things you'd like to do during retirement. This free e-book will examine how your home can boost your retirement funding.

Retirement should be an exciting stage of life. Australians are living longer, healthier lives - for most, that means up to 30 years in retirement. The main thing holding many people back from realising their retirement dreams is adequate retirement funding. This downloadable guide examines how we can help you access your Household CapitalTM, the savings in your home, to improve your retirement funding. Whether you need income or capital, this guide explains how a Household Loan works and how you can use it.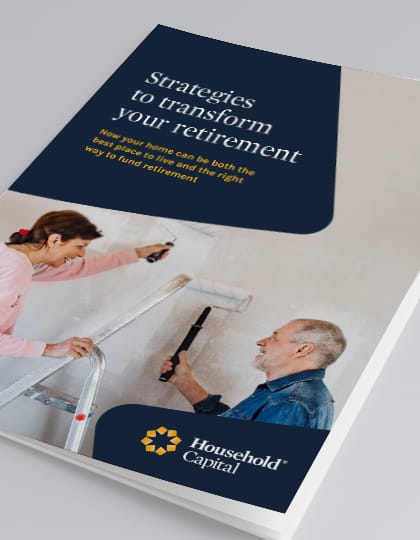 What you get in the guide
Australians prefer to stay in their own home as they age and why not? Your family home has been the centre of your life for years; it has witnessed events and milestones, and many memories are stored within its walls. This guide outlines how you can use your home equity to have the best of both worlds - stay at home and enjoy a comfortable retirement lifestyle. It includes information about our Household Loan, as well as explanations and case studies examining the different ways you can use a Household Loan. These include:
Who should download this guide?
It's important to us that you feel confident in retirement. If you want to improve your retirement funding and Live Well At Home, you should consider the role home equity can play in transforming your retirement. Download this guide if:
You are aged 60 plus
You're already retired or are planning to retire in the near future
You have equity savings in your home
Your retirement savings are insufficient to fund 30 plus years of retirement.
What are you doing with your Household Capital?
Download your free retirment funding guide