Meet John
"Getting money from Household Capital, I don't have to sell the property and go into a smaller property." – John, 73, Queensland
John, 73, lives in Woody Point, a coastal suburb in Queensland. Although his retirement income was sufficient for his daily living expenses, John had a long list of items that required lump sum capital. John required the capital to meet several needs: to refinance a small existing mortgage, pay for some urgent medical expenses, complete some minor renovations to his beautiful Queenslander home, purchase a new car and set up a contingency fund for those larger one off expenses.
After coming across Household Capital online, John had a Zoom meeting with a retirement specialist where he clarified his objectives. Household Capital created a contingency fund that John can access as required, whether to fund home renovation projects, cover medical costs or pay for insurance or rates.
Ten years into his retirement John is able to remain in his home, which he has twice renovated to better suit his lifestyle. At the same time, he has the peace of mind knowing he has the funds available to draw on as required and doesn't need to consider selling his home.
"Household Capital has helped me with the ability to stay in the house for as long as I need to," John explains, "They've never said I can't do anything at this stage and it's just a nice bit of security to know that money's there if I do need it at any time."
John is planning to travel to the United States where he has three grandsons, one of whom he'll be meeting for the first time. "It allows me to do all the things I wanted to do for whatever I need," John says. "Household Capital is there to back me up and they're very good at it."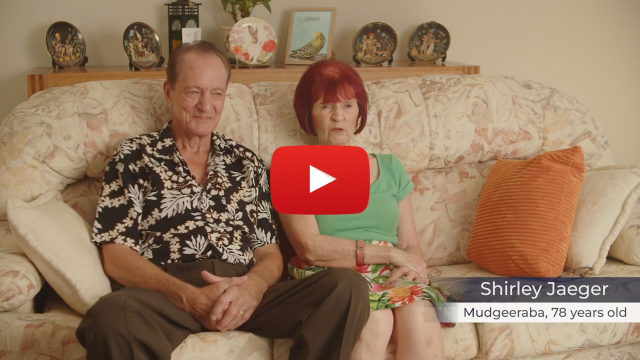 Jim and Shirley
Loan Purpose: Income
Jim and Shirley have had a good life, something they didn't want to compromise on just because they decided to retire. They purchased a new home using some of that home's equity, to be closer to their family. They also established a regular income stream and can look forward to their next chapter in life without scrimping and scraping.
Nan and John
Loan Purpose: Retirement & Income
Nan and John love their waterside home on the Gold Coast where they have lived for 22 years. With their super tied up in their home, they didn't think retirement was a possibility. With Household Capital, not only were Nan and John able to retire, they can look forward to a comfortable and secure future.