Meet Lynne, Raelene & Suzanne
"I feel a lot more comfortable now and I know that I'm able to pay my bills " – Raelene, 64, New South Wales
Lynne, Raylene and Suzanne have been friends for more than 30 years and although they no longer live in neighbouring suburbs, they get together at least weekly to laugh, to talk and to sew. The three of them sew quilts to donate to aged care facilities, where they are gratefully received by the residents.
Lynne was the first to approach Household Capital; she needed a reliable car, although as a widow in her 70s, banks would not extend credit to her. Instead, Lynne used her home equity – what we like to call her Household CapitalTM – to buy a new car, landscape her garden and to set up a contingency fund to draw on in the event of unexpected expenses.
She told her friends Raylene and Suzanne about Household Capital, as both wanted to increase their retirement income. Raylene and Suzanne have now used their home equity to establish regular income streams, and each has established a contingency fund, giving them confidence in their future and flexibility to meet their financial needs.
"I know I will feel wonderful," Suzanne said. "It will just lift a lot of things off my shoulders and I'll be able to go along and do whatever I want to do, and the children are going to be fine."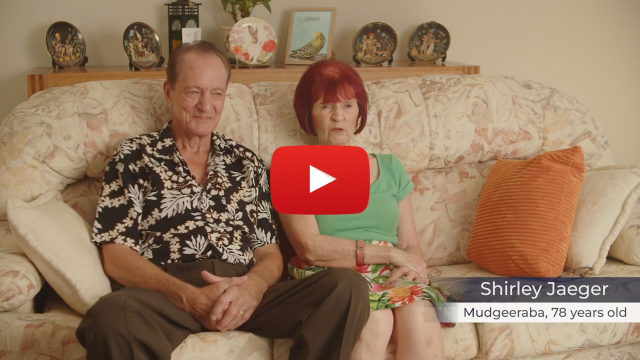 Jim and Shirley
Loan Purpose: Income
Jim and Shirley have had a good life, something they didn't want to compromise on just because they decided to retire. They purchased a new home using some of that home's equity, to be closer to their family. They also established a regular income stream and can look forward to their next chapter in life without scrimping and scraping.
Nan and John
Loan Purpose: Retirement & Income
Nan and John love their waterside home on the Gold Coast where they have lived for 22 years. With their super tied up in their home, they didn't think retirement was a possibility. With Household Capital, not only were Nan and John able to retire, they can look forward to a comfortable and secure future.