Age in your own home during retirement
Nursing homes, residential aged care…. they're generally not the first thing on the retirement bucket list. If you've been thinking that you don't want to move into an aged care facility, you're not alone.
Australians prefer to age in their own home
Two studies in the past five years found Australians prefer to stay in their own home as they age. One of the key findings from the global Retirement Readiness Survey 2018[1] is the widespread desire to remain in and enjoy one's own home in retirement. Globally, 70 percent of respondents said remaining in their own home is either 'extremely' or 'very' important to them as they grow older. As illustrated in figure one, this is particularly important to Australian retirees.
The importance of remaining at home in retirement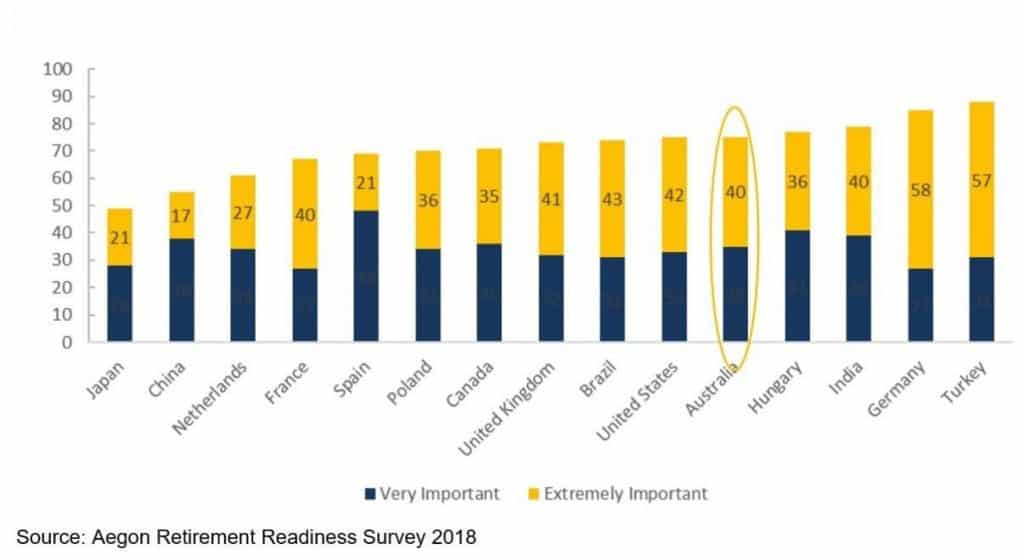 This backs up the earlier findings from the Productivity Commission in its 2015 study Housing Decisions of Older Australians[2]. Figure two shows the reasons participants gave for not wanting to leave the family home. Once again, overwhelmingly, the key reason given by older Australians for ageing in the home is because they want to.
Downsizing intentions of older Australians
Your family home has been the centre of your life for years; it has witnessed events and milestones, and many memories are stored within its walls. It's not surprising that you would prefer to spend as much of your retirement at home as possible. Australians want to remain at home is obvious. However, there are two important considerations when making that decision. Firstly, the suitability of the home for retirement and secondly, access to in-home care as required.
Age in the home - with care
Research points to the fact that retirees enjoy a better quality of life and live longer if they can stay at home and be well cared for. To retire comfortably at home, you may need to make some minor modifications.
These may be to make it easier for you to get around, or safer in wet areas such as bathrooms. It might be new guttering with a mesh insert, so there's no need for climbing ladders for regular cleaning.
In-home care can support your decision to remain at home. Whether it's help around the house and garden, or more intensive support, it's available and lets you have control and choice over your lifestyle.
Choosing in-home care enables you to do the things you enjoy in the comfort and privacy of your own home. From having your family and friends visit to pottering in the garden, there's nothing quite like home.
If your husband or wife needs a higher level of care, quality in-home care ensures you can relax, enjoy life and stay active, comfortable in the knowledge your partner is being cared for. This way, you get to spend quality time with your spouse rather than being their de facto carer.
Financing In-home care
Too often, it comes down to money. The waiting lists for government-funded care packages are long, particularly where more acute care is required. Some people solider on without assistance, while others reluctantly leave their family home.
When the Royal Commission into Aged Care Quality and Safety focused on aged care in the home, it was told that older Australians face an average wait of 18-24 months for a home care package. According to the federal government's own data, published in its Home care packages program data report 1 October – 31 December 2018, there were 73,978 people waiting on a home care package at their approved level at 31 December 2018.
There is, however, another way.
With most people preferring to stay in their own home as they age, the untapped savings in the family home is a valuable resource that can be drawn on to fund in-home care and home renovations to enable you to live safely and comfortably at home.
Household Capital helps Australian homeowners aged 60+ access the value of their homes through a Household Loan. You maintain ownership while drawing on your home equity to finance appropriate renovations and in-home care.
A Household Loan can help you afford the care you deserve and remain in your family home. Importantly, you retain ownership of your home and can stay there as long as you want.
If you want to age in your own home, there are options available to support your decision.
See how much you can access with our free home equity calculator.
[1] Aegon Retirement Readiness Survey 2018 The New Social Contract: a blueprint for retirement in the 21st century. The Aegon Centre for Longevity and Retirement 2018.
[2] Productivity Commission 2015 (Australian Government). Housing Decisions of Older Australians.
Applications for credit are subject to eligibility and lending criteria. Fees and charges are payable and terms and conditions apply (available on request). Household Capital Pty Limited is a credit representative (512757) of Mortgage Direct Pty Limited ACN 075 721 434. Australian Credit Licence 391876.