How does a Household Loan Work?
Australia's retirees typically fund retirement using a combination of savings in superannuation and other investments, plus the Age Pension.
Unfortunately, this often falls short and the rising cost of living makes it increasingly difficult to make ends meet. It can certainly interfere with retirement plans and make it hard to maintain the lifestyle you worked hard to enjoy.
There is another option available to Australia's senior homeowners – the wealth built up in your home.
Through a Household Loan, you can draw on your home equity - what we call your Household CapitalTM. It enables you to access
a portion of your home's value to meet your long term retirement needs.
Your Household Capital can help you meet a range of needs...after all, you deserve to feel confident throughout their retirement.
We can help meet those needs by enhancing retirement income, providing access to capital and improving retirement housing.
We want you to have the best of both worlds – to continue living in your family home with the confidence to enjoy the retirement lifestyle you deserve. We want you to Live Well At HomeTM.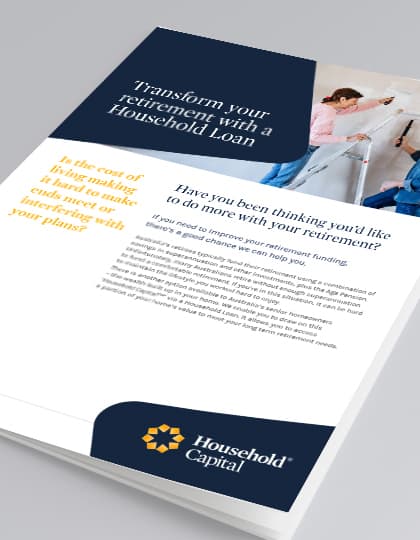 What you get in the guide
Our guide provides you with the information you need to understand how using home equity can improve your retirement income and the details you need to make an informed decision. It includes:
What is a Household Loan?
What can you do with your Household CapitalTM?
How does a Household Loan work?
What is the eligibility criteria?
How much can you borrow?
Who should download the guide?
If you're looking forward to a long, comfortable retirement and want to spend it living in your own home, this guide is for you. It's particularly valuable if:
You're aged 60 plus
You're already retired or are planning to retire in the near future
You have equity savings in your home
Your retirement savings are insufficient to fund 20 plus years of retirement.
What are you doing with your Household Capital?
Download your free retirment funding guide