How a Household Loan Works?
Live Well at HomeTM
Australia's retirees typically fund retirement using a combination of savings in superannuation and other investments, plus the Age Pension. Unfortunately, this often falls short and the rising cost of living makes it increasingly difficult to make ends meet.
There is another option available to Australia's senior homeowners – the wealth built up in your home. Through a Household Loan, you can draw on your home equity - what we call your Household CapitalTM. It enables you to access
a portion of your home's value to meet your long term retirement needs.
What you get in the guide
Our guide provides you with the information on how using home equity can improve your retirement income. It includes:
What is a Household Loan?
What can you do with your Household CapitalTM?
How does a Household Loan work?
What is the eligibility criteria?
How much can you borrow?
Download Here
"*" indicates required fields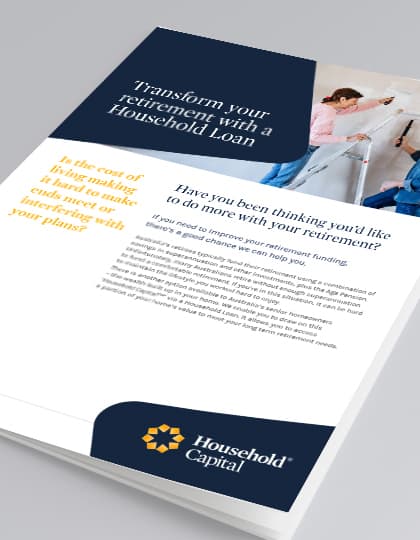 Who should download the guide?
If you're looking forward to a long, comfortable retirement and want to spend it living in your own home, this guide is for you. It's particularly valuable if:
Calculate Your Home Equity
Learn how accessing your home equity could help you consolidate debts or increase your income.