How Boomer Homeowners Can Increase Their Retirement Income
Homes that were bought 40 years ago in Sydney and Melbourne have now compounded in value to become amongst the world's most expensive residential properties.
This is good news for homeowners who are approaching retirement with insufficient superannuation or savings, as they may be sitting on a goldmine of retirement income in the form of their home equity.
A considerable number of retirees do not realise that they have access to significant wealth locked up in their residential homes or other property assets.
A study by the Australian National University released in May 2021 stated that the majority of Australians (55.7 per cent) who weren't currently retired think that they will not have enough money when they do retire.
Financial analysis from Household Capital has identified that baby boomer homeowners living in some affluent postcodes could quickly receive three to five times their existing superannuation income.
Actuarial analysis of property values in blue-chip suburbs reveals how Australian homeowners aged over 60 could release up to five times their current retirement savings by releasing equity in their property to create cash for retirement income, aged care or inheritance.
Take, for instance, the Sydney harbourside suburb of Vaucluse, where the median property value is $4.7 million. A reverse mortgage product would enable more than a quarter of Vaucluse retiree's to draw down up to $1.4 million of the equity stored in their house - around seven times more than their average $200,000 superannuation balance at retirement.
Or in the Victorian suburb of Brighton, where the median property price is about $2.4 million, retiring property owners could potentially access over $700,000 in addition to their superannuation and savings.
"There is a huge and currently unmet need for retirement funding, and many Australians retirees can easily double their available retirement funding through household loans," says Household Capital founder and CEO Josh Funder.
With a Household Loan, you can access the equity in your home as a lump sum, regular income stream, cash reserve or a combination of these, with repayments only falling due when the property is sold.
Household Capital's Household Loan allows retirees to draw 15 per cent of their household equity when they hit 60 years of age, and increase withdrawals at one per cent per annum for up to 20 years, or a cap of 35 per cent.
The federal government's Retirement Income Review, released in November 2020, stated that "accessing equity in the home can significantly boost retirement incomes without the need for additional contributions".
If you own your home and are looking for options to boost your retirement income - Household Capital's home equity release products could help you plan a more comfortable retirement.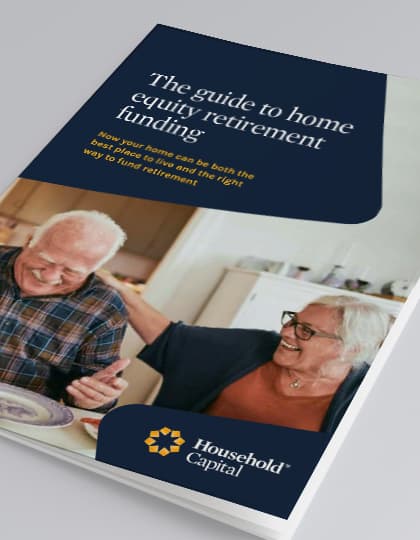 Applications for credit are subject to eligibility and lending criteria. Fees and charges are payable and terms and conditions apply (available on request). Household Capital Pty Limited is a credit representative (512757) of Mortgage Direct Pty Limited ACN 075 721 434. Australian Credit Licence 391876.