Three ways to release home equity
That we are living longer is a great reflection of Australia's improving living standards, yet there is also a cost. Longevity, when combined with insufficient retirement savings, high living costs and low-interest rates presents a range of challenges for Australian retirees.
Increasing numbers of Australians are choosing to unlock their home equity to assist fund their retirement and enjoy the healthy, active and fulfilling retirement they so rightfully deserve.
As compulsory super was only introduced in July of 1922, many of today's Australian retirees weren't able to amass enough savings for 20, let alone 30 possible years of retirement, putting them in a difficult financial position.
Another challenge facing our senior citizens is the growing waitlist for government-funded in-home care. In 2022, Australia had over 68,000 elderly people on the waiting list for home care packages at their approved level.
How to Access Equity in Your Home
Below are three options for funding retirement by releasing home equity:
The question is, which one is right for you? Read as we go through each equity release method in more detail.
Downsizing Your Main Residence
When retirement arrives, downsizing to a smaller home that requires less ongoing maintenance is one way to release home equity, yet this is a big decision that can cause significant disruption and dislocation, taking you away from your coveted household memories and familiar communities.
For this and other reasons, downsizing your home is not a popular choice, despite the government's Downsizer Contribution that encourages this outcome with incentives.
Home Equity Access Scheme (HEAS)
Another option for releasing equity from your home is the Home Equity Release Scheme (HEAS), previously known as Pension Loan Scheme (PLS), administered by Centrelink and available to all Australian homeowners who receive the age pension.
The government draws on the recipient's home equity through this scheme to provide a regular income in addition to the Age Pension.
However, the amount of capital available may not be enough for other retirement needs such as house renovations, aged care or medical expenses.
Home Equity Release
Home equity release is a popular choice for seniors who prefer to live in their own homes as they age. There is an estimated $1 trillion of accumulated savings in home equity owned by older Australians, which is a genuine and life-empowering source of retirement funds.
A Household Loan enables you to access your home equity, so you can live in comfort and with confidence. Try our free home equity calculator and see how much you could unlock.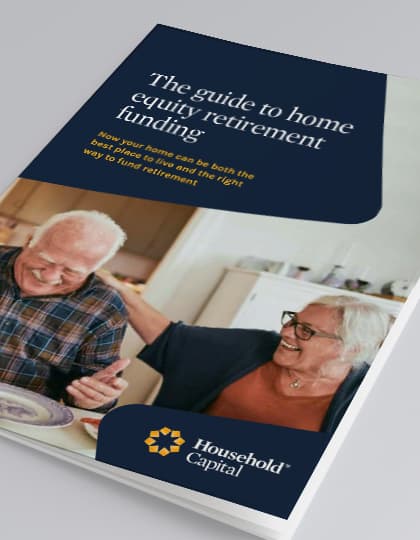 Applications for credit are subject to eligibility and lending criteria. Fees and charges are payable and terms and conditions apply (available on request). Household Capital Pty Limited is a credit representative (512757) of Mortgage Direct Pty Limited ACN 075 721 434. Australian Credit Licence 391876.